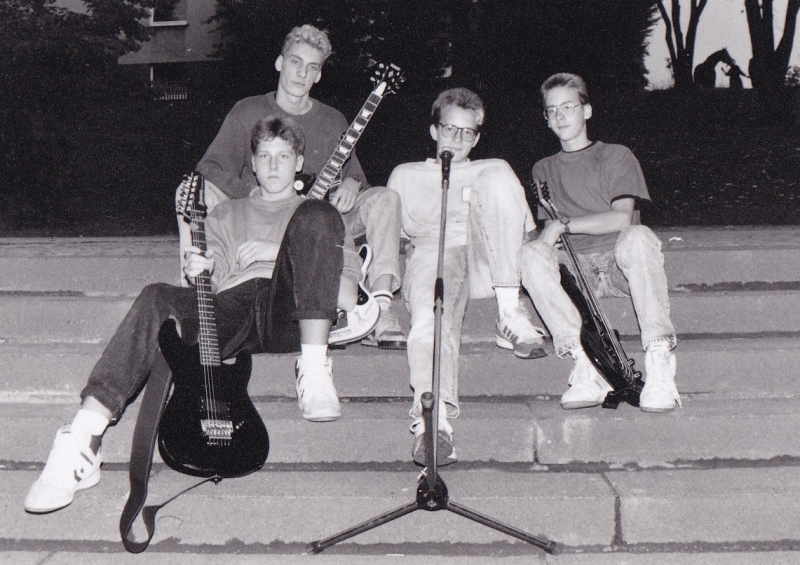 (My first band! I'm the guy on the left at the front.)
Born in Germany on Star Wars day in the year the last man landed on the moon
Loves all kinds of good and bad films and books and games and is a bit of an indoor enthusiast
Definitely more on the introverted side of the spectrum (but really likes humans as a concept)
1970s - 2000: sang, played guitar, keyboards and bass in varying bands and music projects, starting when seven years old in the children's rock choir Rauch und Feuerschwalben
Since the mid 1980s: Computering with all kinds of machines starting with a Commodore 64
Since 2006: Python is a honking great idea — let's do more of that!
2007-2011: although "not good at math" and "already too old" - studied Computer Engineering
Since 2011: Software Developer at Avira
Since 2013: occasional public speaker
2017 - 2019: occasional open source gardener (maybe I can pick that up again in the future)
Since 2017: occasional Python coach
There is an interview with me that goes into a bit more detail, if you're interested.
Get in touch 🔗
Github | Gitlab | Lobsters | Linkedin | Stack Overflow | Twitter | Xing
If you want to go old school, send a mail to "http://oliver.bestwalter.de"[7:].replace('.', '@', 1).
If you want to share state secrets with me: here's my my public gpg key).